I always have a mental wishlish on the go, so I thought I would share what I'm currently lusting after!
1. Crop top- River island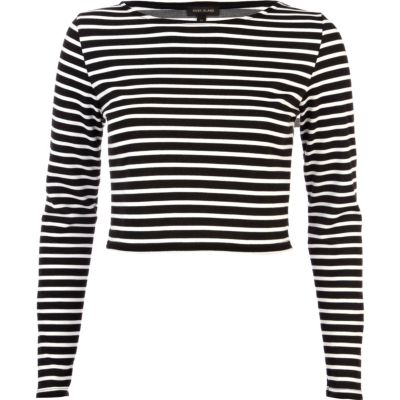 I'm really loving crop tops at the mo, I think its because I'm craving a bit of sun. This is obviously a nod to the monochrome trend which I love and fully intend to embrace by adding this piece to my wardrobe! Its pricey, and £20.00 for a tee-shirt, its not cheap, but I can see myself wearing this loads; think disco pants, jeans and skater skirts!
2. Vera Wang lovestruck (floral rush)
Every time I have been shopping lately, I've had to go it boots and spritz my self with this, I just love it! I'm awful at describing scents but I would say it was quite floral (duh), but not overly sweet. It reminds me a bit of palma violets as well. With any luck, I could be getting this beaut for my birthday :)
3. Lush- Fluffy egg bath bomb
Everybody love a bit of Lush, and I really want to get something from their Easter collection. Personally, I prefer the bubble bars to bath bombs, but this one looks lovely, and is a snip and only £2.95.
4. Urban decay `Naked basics` palette-
Everyone knows how brilliant UD's palettes are, and I would love to add this to my collection! I don't think I could justify spending the large amount on this lovely fellas famous cousins, but I don't think the £20 price tag of this one is too bad. I'm trying to mix up my look from eyeliner everyday, and I can see my self getting alot of use out of this, asd there all wearable shades. (On a side note, is it just me that thinks eyeshadow palletes with neon oranges and greens are just a tiny bit pointless?!)
5. Jack wills Merrifield dress
I love this dress! it's currently in the Jack Wills sale, for £49, which although is a lot, I think is actually quite good for JW, I just adore the vintage-esque print and the colour are to die for. I probably won't be purchasing this, because it is pricey, but hey, this is a wishlist!
Thats what I'm after currently! The weather is awful where I live right now, I actually need some sun!
What's on your wishlist?
Alice
x